Exploring the North Coast of Mallorca: Charter Experience with Easyboats
A day charter with Easyboats promises a wonderful adventure that offers a mix of relaxation, excitement, discovery and delicious culinary experiences. We set sail from the picturesque Port of Andratx and make our way to the enchanting beauties of the north of Mallorca. Our journey is a voyage of discovery to our favourite spots, which we choose carefully, considering the weather conditions and your personal preferences. Whether you want to unwind, relax, practise water sports, snorkelling, or enjoy delicious Mediterranean cuisine, Easyboats will make your day at sea something special.
Our favourite spots in the North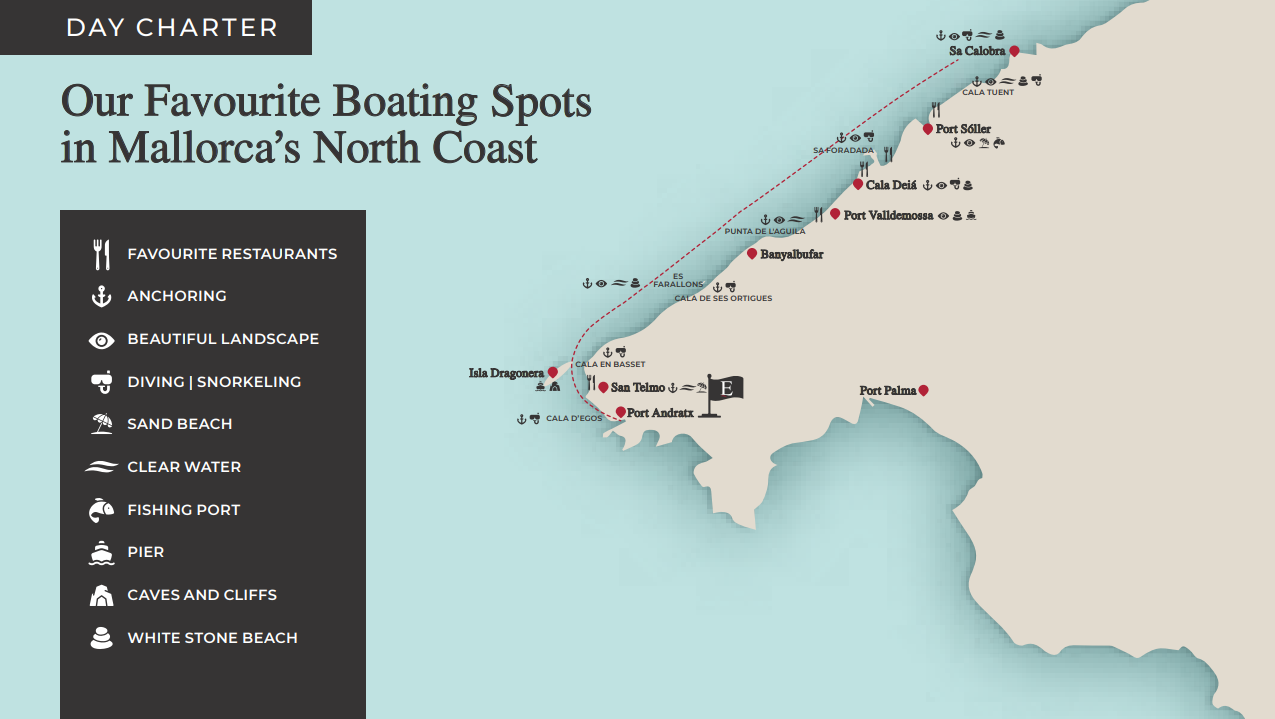 Cala d'Egos
Cala d'Egos is a true gem of the Mediterranean. This secluded cove is perfect for dropping anchor on soft sandy bottoms, where you can enjoy a peaceful day on the water and dive into crystal-clear waters for some amazing snorkelling.
San Telmo
San Telmo is famous for its impressive sand anchorages. Dive into the turquoise waters and explore the underwater wonders below. Then, enjoy a delicious meal at Es Raor Restaurant or take a leisurely stroll along its promenade or picturesque sandy beach.
Isla Dragonera
Dragonera Island attracts with its charming silhouette that resembles a dragon. With its small port, coves and imposing cliffs and being a natural park, visiting it is like taking a beautiful trip to the past.
Cala En Basset
Cala En Basset offers a secluded and sheltered anchorage, making it an ideal place for relaxation and water activities. Dive beneath the surface for incredible snorkelling adventures and enjoy the tranquillity of this beautiful bay.
Cala de Ses Ortigues
Another pristine sand anchorage awaits you in Cala de Ses Ortigues. Already entering the wonderful 'Sierra de Tramuntana', this beautiful cove is a very popular destination and one of our top favourite spots for its turquoise blue waters and its beautiful natural scenery.
Es Farallons
Es Farallons is another paradise with crystal-clear turquoise waters of white stone and sand bottoms. The name is given because of its rocks that jut out into the sea forming a cove. Here you can explore or relax on its deserted white stone beach or immerse yourself in the underwater world with your snorkelling gear.
Punta de l'Aguila (Canonge)
Punta de l''Aquila in the Es Canonge area offers a sandy anchorage and crystal-clear turquoise waters. Another perfect spot for snorkelling.
Port de Valldemossa
Port de Valldemossa captivates with its stunning landscapes. Enjoy a great Mediterranean meal at Restaurante Es Port de Valldemossa, discovering a charming local harbour.
Sa Foradada
Sa Foradada is one of the most popular coves on the north coast. Its peculiar holey rock that gives its name to the cove, its impressive landscapes and its sheltered anchorage make it a very special place that is worth visiting. Immerse yourself in its crystal clear waters and if you are one of the lucky ones, reserve a table at the famous Sa Foradada Restaurant where you will enjoy a local Mediterranean meal with stunning views.
Cala Deia
Cala Deia is known for its impressive landscapes and charming enclave. Discover this beautiful Mediterranean cove and feel like a local while savouring a meal on the seaside terrace of the acclaimed Restaurant Ca's Patro March.
Puerto de Soller
Puerto de Sóller has a beautiful, captivating landscape, with its lively fishing port, its old military base and its old wooden tram. Here you have a wide variety of restaurants where you can enjoy a good meal, our favourites are: Can Ribes Restaurant, Kingfisher Restaurant, Sa Barca Restaurant and Es Reco des Port Restaurant.
Cala Tuent
The picturesque Cala Tuent is surrounded by stunning landscapes. This place offers a white stone beach and crystal clear waters. An excellent place to enjoy relaxation and snorkelling.
Exploring the north of Mallorca on a charter with Easyboats is an exceptional trip. Each location offers its own unique charm, combining natural beauty, water adventures and great restaurants. Join us for an unforgettable day at sea, where you can create amazing memories that will last a lifetime. Ready to board? Contact us.